These days, the development of MOBA (Mobile Online Battle Arena) games is getting HOT! Arena of Valor is one of the most famous MOBA games which are competing in taking the gamers' attention. One thing that those MOBA games may be competing on is the variety of heroes.
As with Mobile Legends, DotA 2, or League of Legends, Arena of Valor comes up with many heroes with different characteristics and appearance. In accordance with both, each hero also has their own powers and skills that are different from others. These following heroes mentioned below are the best AoV Archer heroes that are famous with their accurate shot and attack. Not only have great appearances, but these heroes are also claimed as the greatest Archer heroes with a big damage that they can make. No need to be curious, let us go straight to the discussion!
The Joker
If you are a comic enthusiast, you must be familiar with The Joker. Yes, this character is not only existed in cartoons, but also in Arena of Valor. The Joker has been being claimed as the best AoV Archer hero due to his powerful gun. As we can see from his appearance, he holds a gun as the most identical thing of his. Not only having an attractive and familiar appearance, but The Joker also has a lot of powerful skills.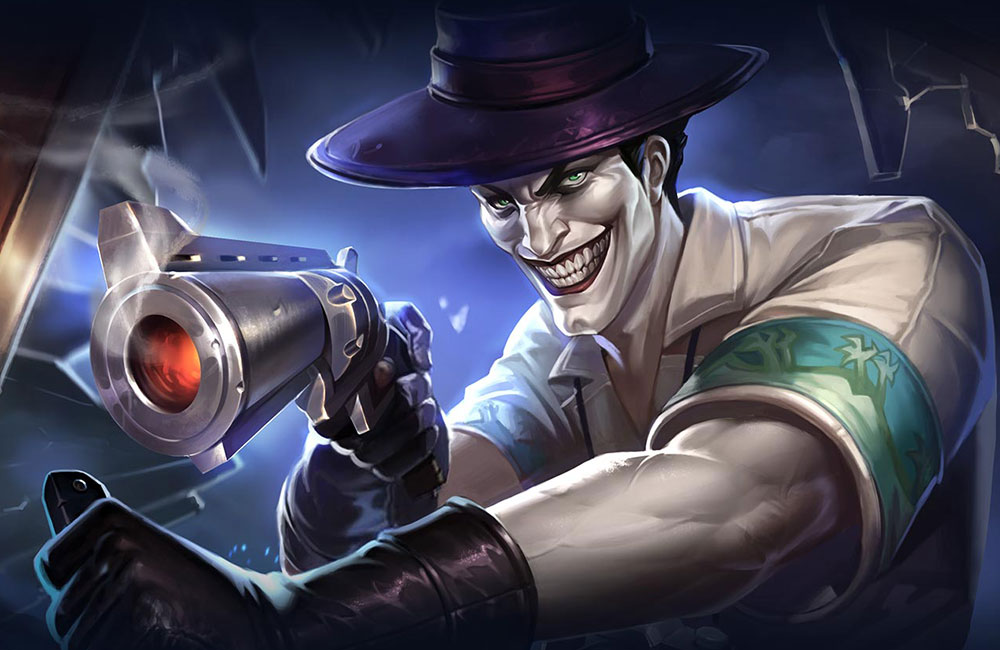 The first skill of his makes him able to tackle down the enemy fast and easily. Meanwhile, if you employ the Skill 3 of his, he will be able to beat the enemy by sticking a bomb to the enemy. However, with such a skill, you need to train yourself diligently as those skills need a great trick thus The Joker cannot be easily played by beginners.
Yorn
Here is our prince with his beautiful golden archer, Yorn. From his first launch, Yorn has been claimed as one of the best AoV Archer heroes among others. Compared to The Joker, this hero is easier to be played by the beginners due to the simple trick of arching. Besides, his good-looking appearance seems to be a great attraction for the players. If you are a beginner, I guarantee you will see him as a strong, handsome prince that can nowhere be found but on Arena of Valor.
Not only having a great arching skill, but Yorn can also give an enormous physical attack toward the enemies. This skill can be maximized if you employ two items: The Beast and Fenrir's Tooth. In addition, he has an ultimate skill named Heart Shot which makes him able to attack the enemies from anywhere he wants. However, those skills, unfortunately, cannot help him run off from a battle at all.
Slimz
Different from Yorn, Slimz has a small appearance which errs… not really that interesting and attractive, but his skills are extremely unexpected. On his small body, we can see how scary his eyes are. He always throws an ambitious expression on his face, and yes, he truly is.
He has very great competence. The buff, stun, and charge attacks are the best things you can see from him. Even though he is not really good in making a physical attack, those kinds of skill mentioned previously seem to be a complete package of a hero's attack. In addition, his Skill 2 makes him able to run very fast and lively thus it is difficult for the enemies to attack him. Not only the second skill of his, but he also has the third skill that is very interesting and strong at the same time.
Good gamers, those are all the three best AoV Archer heroes which have been taking many players' attention nowadays. However, those are only the three best among the best. I actually would like to mention Violet, but we have talked about her in the previous articles though, thus I would recommend you to swipe the menu tab above to find her—yes, she is the best of the best though.
Now, if you are curious about how the professional gamers won every game of theirs, you can watch Arena of Valor tournaments that are upcoming or just held and posted on YouTube. Make sure you train yourself every day and keep improving. See you in the next discussions of Arena of Valor heroes! Cheers!